Showing 13–13 of 13 results
Lisa Fertig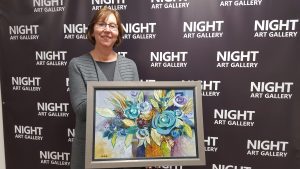 The desire to create has been instilled in me since early childhood. I grew up in Duluth, Minnesota where I learned to appreciate the beauty of nature and the changing of seasons.
I received formal training in the Fine Arts Program at the American Academy of Art in Chicago, Illinois with further study at the University of Minnesota, Minneapolis College of Art and Design and Atelier Lack in Minneapolis, Minnesota. I have belonged to many art groups and served as Workshop Chair of the Northstar Watercolor Society in the Twin Cities, where I received additional training under nationally renowned artists.
I work in watercolor, acrylics, and oils and have produced a substantial body of work in a number of categories including landscapes, still lifes, and abstracts. My experience also includes work in graphic design, in particular, having my work licensed in the greeting card industry.
My art is shown in galleries throughout the Minnesota area, has received awards in competitions, and is held by numerous private collections, businesses, and corporations. Commissions, teaching, participation in art fairs, and gallery representation keep me enthusiastic about painting. I live in Arden Hills, Minnesota with my husband.