Tree Croyle Johnson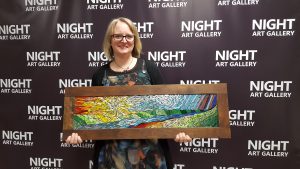 I love glass, all things about it. Looking at it, breaking it, using it for art, cooking with it, melting it, collecting it, wearing it…Like I said, I love all things glass. I also love nature, humor, animals, and sentiment.
For as long as I can remember I have been a mosaic artist. It all started after a high school art project to make a mosaic. I went on to earn my BFA in Fine Art but didn't make mosaics in college. My process is mostly self-taught, creative and improvised; my glass is laid and cut one piece at a time, working as I go to make the design and color choices. this leads to unique mosaics that convey mood, beauty, and sentiment inspired from elements around me.
I live in Forest Lake, MN with my three elementary aged kids, a wonderful man by my side, and an awesome dog. I have a studio in my home and currently sell my work at occasional shows and online at etsy.com.