Joseph Reinke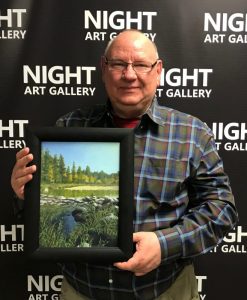 Joe is a born artist with a creative passion to paint enticing and inviting landscapes.
Joe loves to bring the beauty of creation onto the canvas. He seeks a better understanding to create visually exciting art, studying the mysteries of visual knowledge from creation. Wrestling with drawing, color, value, edges, composition, he seeks to release a vibrant imagination captured within the craftsmanship of landscape painting.
Joe started his life with a pencil in hand. Growing up in Michigan, he had plenty of city, rural, and wilderness visual material to draw from. He constantly was drawing throughout grade and high school. In 7th grade he started to paint in oil. In the 8th grade, Joe took his first art workshop.
During and after high school, Joe spent a lot of time hiking, fishing, camping, and just enjoying the great outdoors throughout Michigan. Joe started college thinking that he wanted to be an architect, especially after spending three+ years working in an architectural-engineering firms in Troy and Dearborn, Michigan. However Joe's job opportunities moved him to Indiana, were he completed a Bachelor's degree in science from Purdue University, taking several art courses as electives.
Joe then moved to Minnesota and worked for several companies in graphic software development, then switched to developing multimedia applications, then advanced into educational application development; working on graphic design, video, audio, and instructional design. All this time he continued to research painting techniques and continued painting landscapes.
Joe wanted to learn more about how to paint better landscapes, so he started attending The Atelier Studio Program of Fine Arts, in Minneapolis. There he took several evening classes to develop his drawing, proportion, and value relationships. He then sought out various landscape artists throughout the Twin Cities and discovered a group that offers focused training on landscape painting.
Joe focuses on plein-air and studio landscapes in both oil and acrylic. He has traveled around the country and utilizes that experience to draw on material for his landscape work. He just loves how God created such a vast and wide variety of shapes, colors, and values throughout the landscape, and seeks to capture that on canvas. He continues to take landscape classes to improve his skills and talents as a landscape artist.